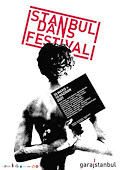 This week the Netherlands brought Dutch artists to town to join Turkish artists in the city's edgiest performance and art space, Garajistanbul. Next week, Dutch cultural dialogue group Kosmopolis will organize Garaj nights in the Netherlands to 'personally introduce' Turkish artists to the public and art professionals. The Turkish Daily News shadowed the group's pursuit of cultural exchange
Entering the vast underground space beneath the Galatasaray car park, guests of contemporary arts center Garajistanbul were engulfed with the type of fusion not found in any restaurant uptown.
At one table, Dutch artist Weitske Maas was taming unwieldy gobs of "urban confection" into something like taffy, but this variation combined street weeds such as milk thistle found growing in Amsterdam with local honey. At another table, Japanese-Dutch artist Maki Ueda created "Body Odor No. 5" based on liquid essences from Turkish and Dutch diets – think garlic meets dairy. After an audio-video mash-up, a visual-DJ set from İzmir-based group Not at Home opened the floor to a larger late-night scene. Fusion indeed.
Dutch-Turkish art collaboration Kosmopolisistanbul hosted Dutch artists this week at Garajistanbul. They teamed up with Turkish performers Friday and Saturday for CitySense, which curator Nat Muller called "a playful evening pondering media, control, surveillance, secrecy and art in urban environments."
The creative director ultimately behind events like this one is Rachida Azough of Kosmopolis, the Dutch Platform for fostering dialogue between different communities in the Netherlands through art and culture, both nationally and internationally. One such partner is Garajistanbul, itself a civilian cultural transformation project. Funded by the Dutch ministries of finance, and education, art and culture, Kosmopolis introduces artists and supports international cooperation between them in the cities of Amsterdam, Rotterdam, Den Haag and Utrecht.
Artists knock on ministry doors
On Monday Azough met with Turkish figures from cultural education, literature, the film sector and media at the Dutch Consulate. The storm may have calmed since recent social unrest in the Netherlands, but the damage is obvious, she told the group. "Kosmopolis stems from the need to counter a negative development in our society, where stereotypes are gaining strength and groups don't talk with other groups and racism grows." Azough was quick to point out that Dutch artists initiated the project themselves by knocking on ministry doors.
In Rotterdam recently the group invited 100 women, many with origins in Turkey and Morocco, as well as foundation and police representatives, to Dutch and Turkish plays about honor killings. Azough said that when addressing honor killings at home, it had been important to connect with Turkey, which has been more active in combating the problem. "We can learn from Turkey where people have been aware of it much longer," she told the Turkish Daily News.
However Azough is wary of bringing content for dialogue to other countries. "How many times is the West going to tell others that they're willing to talk only to tell others what is wrong with them and what they should change ?" she asks. "The conversation has to be reciprocal."
Drawing on the differences between political pressures in the Netherlands and Turkey, Azough said the Dutch have always had arrogance about their reputation for tolerance. They weren't under the same pressures that many governments were, she added. "Politicians historically haven't seen themselves in danger in the Netherlands."
Tensions exist though, she said, especially surrounding the Muslim population, most of whom moved to the Netherlands in the 1960s as migrant workers. "Secularism was taking hold even as Islam was laying down roots in society."
Azough recalled that as a 12-year-old whose parents had migrated from Morocco to the Netherlands for work, they were scared they might be sent back to Morocco. "'You have to learn Arabic because one day they could say, ok, it's time for you to go back,'" she recalled her parents telling her.
Free speech here vs there
Garajistanbul international relations coordinator and actor Mehmet Ali Alabora said a feminist play they staged called "I'm Breaking the Game" challenged many of Turkey's taboos. "It's vulgar and critical of the Koran and dominance of women through religion." Nonetheless, he said Garajistanbul had experienced no pressure from authorities. "That could change tomorrow," he added, smiling.
Some in the Turkish contingent noted the palpable risk of rousing Turkish authorities and nationalists if the Turkish national anthem or flag were to be altered in any way. Pointing out that countries like the United States routinely mock their own anthems, one artist said he had considered doing it "to reveal its underpinnings," but backed down in fear of being charged with a crime.
Other participants debated whether media could help control the negative hype around extreme reactions to art by being more measured in their coverage. Or was media a mechanism for promotion even when it was negative ? Azough responded with an example of an Iranian photographer who might have sensationalized her own work in the Netherlands to exploit the media and gain notoriety.
Set in hospitable and engaging settings, she said their approach was catching and using art to transform established worldviews. "Boundaries are diminishing," she said. "Identities can no longer be traced along national, cultural, religious or ethnic lines."
Garajistanbul takes art to Dutch
Next week Kosmopolis will organize Garaj nights in the Netherlands, four evenings (October 8-11), to "personally introduce" Garajistanbul artists and their Dutch partners to the public and professionals in the art world. These evenings will correspond with the Turkey Now celebration in the Netherlands, featuring food, theater and dance. This year Garajistanbul has hosted one or more artists from the Netherlands each month.
With the effort of artists and art supporters, Garajistanbul Contemporary Arts Center was launched last year by the founders of "Beşinci Sokak Tiyatrosu" (Fifth Avenue Theater) Mustafa and Övül Avkıran. Garajistanbul is under Taksim's Galatasaray garage and is located in a space of 600 square meters. It does what no other space in the city does – hosting theater plays, concerts, dance performances, workshops and seminars.
"Kosmopolisistanbul is a major project for Istanbul, which is on its way to becoming a global cultural center," Avkıran said