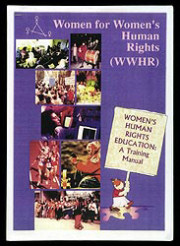 Despite what the calendars say, incessantly claiming it is already the 21st century, half the population in Turkey continues to be denied its basic human rights. Various patriarchal mechanisms inhibit half the population's that is the women's right to mobility, education and employment; quite often even the right to life comes across as a luxury. Let alone becoming equal participants in the establishment and maintenance of a democratic and peaceful order, women are hardly represented in parliament.

I want streets free from sexual harassment. HREP participant in Canakkale


I want to put a STOP to the murdering of women in the name of honor. HREP participant in Antalya


I want to marry the person of my choosing; I want equality and respect. Do I want too much? HREP participant in Van
Despite all odds, there are women in Turkey who struggle to live as equal and free individuals. Thousands of these women are armed with a tool that has enabled them to cross the threshold of their homes and partake in the public sphere that has been off-limits ever since the day they were born and declared a girl child. This tool that the women are armed with is no nuclear weapon set to detonate any moment but a 12 year old program, namely the Human Rights Education Program for Women (HREP) that continues to be carried out in all regions of Turkey. HREP has indeed proven to be an inspiring weapon that empowers the voices of women and adds strength to their struggle.
In June, Istanbul hosted 70 remarkable women's human rights advocates and HREP trainers from 20 different cities who met for the 3rd HREP Coordination and Planning Meeting organized by WWHR. The trainers did not come empty-handed; in their suitcases were the voices and expectations of thousands of women whom they work with. Women's messages regarding the country's current state and their demands from the new parliament reached the people of Turkey via a press conference held during the trainers' meeting in Istanbul. Words of women from Van who said, "We are standing up against all forms of violence," were strengthened with the voices of women in Izmir, who asked "Women are well aware of the problems, but where are those who cause the problems?"

I don't want a parliament where a handful of women sit around for decorative purposes, I want a parliament with active and broad participation of women as free individuals and equal citizens, participating in every aspect of the decision making process. HREP participant in Aydin


I want women's domestic labor to be recognized, I want housewives to be included in the social security system. HREP participant in Mersin
HREP: One of the Best Tactics for Human Rights
The Human Rights Education Program for Women (HREP) which has been implemented on an ongoing basis for 12 years was developed by the Istanbul based non-governmental organization Women for Women's Human Rights (WWHR) - New Ways in 1995. To date, HREP has reached around 5000 women in 36 provinces located in all seven geographical regions of Turkey. In 1998, the program entered a new stage in use of state facilities and services and started to be implemented in collaboration with a state agency, the General Directorate of Social Services (SHCEK). Cooperation with a state institute has provided for the program to be implemented by professional social workers on a regular, widespread and sustainable basis in Community Centers spread across the country. HREP that is one of the best examples of successful cooperation between the state and civil society in Turkey has been awarded for this cooperation as one of the world's best tactics during the "Best Tactics in Human Rights Worldwide" international program coordinated by The Center for Victims of Torture in U.S.
HREP, being the most widespread and comprehensive non-formal human rights education program in Turkey, addresses a variety of topics including sexuality, communication, constitutional, reproductive and economic rights, grassroots organizing, violence against women and the women's movement across the world. HREP consists of 16 workshops, held weekly for 4 months. In HREP, subjects are not conveyed in the form of "teaching lessons" or "instructing a class." Workshops are held with a participatory approach through the experiences and needs of the women. The aim is not to deliver theoretical information on the legal system but to enable each woman to use their rights within their daily life.
Women's rights on TV
HREP reaches the public also through its written and visual materials. In 2005, in collaboration with the news channel NTV, WWHR prepared Turkey's first documentary on women's rights. The documentary based on HREP and entitled "Purple Series with Women" was broadcasted on NTV last year and plans to reach more women this season through local television channels. The Purple Series that creates an alternative to the discriminatory view widespread in the media, does not victimize women but shows how women have been able to realize their rights.
Thus the documentary meets the demands of women from Antalya: "We do not want to see the women being belittled on the television programs. They should stop making profit by televising portraits of tortured women. Instead they should prepare informative and educative programs for women."
The women of Antalya who sent their messages to the Istanbul meeting also say, "I am perfectly capable of making my own decisions; I want freedom and opportunities, not decisions made in my name."
In course of the past 12 years, hundreds of women who participated in HREP and transformed their lives, have joined the labor force, started having a say regarding their own bodies and sexuality, ran for candidacy and entered the local governments, became muhtars, trained the officials of local governments on gender equality and violence against women. According to an independent evaluation research carried out in 2003, % 63 of HREP participants brought an end to the domestic violence they experienced, % 54 returned to their education; % 42 joined the labor force.
"I used to think that women are weak. With HREP I learned that if we organize there is nothing we can't do. Women organize to fight against injustice. When necessary they can even change the laws." HREP participant in Istanbul
Perhaps the most impressive aspect of HREP is its contribution to the prevalence of women's local grassroots organizing. In 10 different cities ranging from Van to Ankara, Istanbul to Samsun, Canakkale to Edirne, HREP participants have opened cooperatives, candle and paper ateliers to gain their economic independence and founded centers to support and counsel women who have been subjected to violence. Among the 15 different organizations are also daycare centers opened by HREP women who wanted to ease the burden of care that is traditionally laid upon women's shoulders; thus they both provided themselves with a regular income and also enabled for more women to join the labor force.
Women are demanding that the new parliament exerts the will for women to live equally and freely!
The HREP participants, who are working hard to create a progressive and equal environment for women, want their voices to be heard. Here are a few of their demands voiced during the Istanbul meeting in the hope of a more just and equal life for all women in Turkey:


In order not to be dependent on my husband, I want economic freedom and independence. Antalya


As the group that is most affected by economic crises and poverty, women are faced with the threat of loosing the peace in their home and country. I want a life free of violence; I want education and economic prosperity. Ankara


Women are the ones who understand women's problems, thus I want women in all local governments, municipalities and definitely more women in the parliament. Antalya


I want women's shelters ran by independent women's organizations. I want access to kindergartens and daycare centers. Izmir


I want a work life where labor and women are respected. I want longer maternity leaves. Adana


We want men to be trained as well so that they can become individuals who practice positive forms of communication in their lives. Ankara


We want our reproductive rights. A woman who does not want to give birth should not have to ask for her husband's permission. Adana


We want government programs to support and fund the cooperatives that women open to create and market their handworks. Adana


I want equal wages. I want an end to all the sexual harassment and rape. Van


We want women to open their eyes and watch out for their rights. As the first step, we want all the women to participate in HREP. Antalya
In order for an equal and just society to become real and not remain as wishful thinking, the HREP women say they will continue their struggle to make Turkey a more humane and equal place for women.